Why buy from us?
By buying from one of the largest authorised AVID Pro Tools dealers in the UK you can be assured that you are buying genuine software at very competitive prices.

This combined with our Pro Tools experts ready to answer your questions, amazing customer service and fast free delivery makes DS Music the place to buy Pro Tools.

Get Pro Tools now online or from our high-street store in Monmouth, South Wales.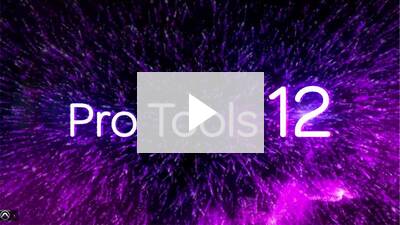 ---
---
Pro Tools, the industry standard
Pro Tools (formally Pro Tools 12) allows you to record, edit and mix music and is the industry standard amongst top recording studios, producers and artists around the world. Its combination of its ease of use and powerful features make Pro Tools the no. 1 DAW. Give your students the power of Pro Tools today!
Key Points
Identical to the full Pro Tools version but with a big educational discount
12 months of upgrades included - always have the latest version
Get New Features as they are Developed/Released by Avid
12 months of support - if you need any help
Compatible with PC & MAC
The industry standard in professional recording studios
What's new in Pro Tools (formally Pro Tools 12)?
With Pro Tools you now get 12 months of upgrades and support to ensure your school, college or University are up-to-date with the latest version and if you need help there is someone there to give you a hand! New features available now/coming soon are:
12 Months of Upgrades Included - get the latest features as soon as they are developed/released
12 Months of Support Included - to help you when you need it
Collaborate in the Cloud - work with your friends, teachers, wherever you are in the world.
Connection to the Avid Marketplace  - publish and license your work in the public marketplace.

Access your Work Anywhere

- store locally or in the cloud.

Manage & Track your Assets

- via new universal metadata schema.
Track Commit - Pro Tools lets you "commit" tracks, where a new track is created containing the audio rendered from the output of the source track. 
Batch Fades - The Batch Fades dialog lets you specify different settings for Fade In, Crossfades, and Fade Out
Clip Transparency
What are the PC and MAC system requirements?
Below you will find the recommended minimum requirements:
Mac: 
macOS Catalina 10.15.7 - Ventura 13.4.

M2, M1 or Intel Dual Core i5 or faster

* Mojave is no longer tested, but is expected to work
For more information on supported computer models and operating systems, please click here

Windows:
Windows 10, 11 (22H2)

64-bit Intel Core Processor (i3 2GHz or faster recommended)
For more information on supported computer models and operating systems, please click here
All Computer Systems:
8GB RAM

Internet connection (needed for installation, activation)

15GB of free space for installation

One or more hard disk drives dedicated for audio record and playback, formatted HFS+ Journaled for Mac or NTFS for Windows

PCIe slot for HDX or HD Native card (incl. one power connection on motherboard)

USB or Thunderbolt port for supported PCIe-chassis or HD Native Thunderbolt or other CoreAudio/ASIO supported audio device

iLok account/access (iLok 2, iLok 3 (USB A or USB C), or iLok Cloud
To ensure the above information is up to date please check this here
You've

recently

looked at...